Welcome to Mind Lust…the sensual world of Erotic Hypnosis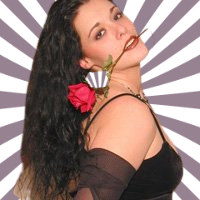 Erotic Hypnosis is not a typical domination session.  I am experienced in this very "select" type of fetish. I am a sensual femdom and I go by many names including Dominitrix, Masturbatrix, Goddess, Temptress, and Mistress. I'm a seductive Gothic Princess who enjoys sensual domination, Tease and Denial. and Erotic Hypnosis. I am a Mistress of the Mind. I consider my brand of domination to be softer or romantic… but much more intense and intoxicating. My slaves aka Surrender Monkeys learn a new way of submitting to a woman through mind control because it is the ultimate form of submission. You will enter  Mind Lust once I have you under my magical spell. You will be completely hypnotized to worship me as the true Goddess. I'll make you my personal little plaything and I'll step into your mind at my whim. Erotic hypnosis is my specialty and the way that I mentally tease and control my slaves. You will give up control and submit – because there will be no other choice for you once you enter a trance at my making.
Let me define what Mind Lust really means.
The Condition of Mind Lust – a mental state of deep imagination, intense sexual pleasure, and proper submission by intent, and design. For those less intelligent – it means you'll be mind fucked until you beg me to stop… and then I just won't. Got it?
Mind Lust is Domination on steroids. Mind Lust is Female Domination with the intensity of a lightning bolt that sears through your little male brain and chars your old way of thinking about "women". I am not a mere mortal woman, but something greater, something unattainable, something far more powerful than your pathetic soul… and something cruel that delights in your mental torment.
The world of BDSM is a serious one where safety is important and the experience counts. Using Phone Sex or online Erotic Hypnosis (for lack of a better term) as a means of talking to a Mistress or obtaining a fantasy domination scene is quite common. However, Mind Lust is not common. I fully understand the head games and mind fucking with men to take them to a level of cruelty that they will become addicted to. That's always MY goal, to own your mind, body, and pathetic soul.
Welcome to Mind Lust Slavery….


This website was written BY Pagan FOR Pagan, which basically means that it is protected by copyright as a collective work and/or compilation. Any reproduction, modification, publication, transmission, transfer, sale, distribution, performance, display, or exploitation of any of the Content or Service, whether in whole or in part, without the express written permission of mindlust.com is prohibited.
This site is about Erotic Hypnosis, Hypno erotica, deep hypnotic trances, domination, mind control, male submission, mental bondage, money slavery, phone sex, blackmail, tease and denial cock control, body worship, submission to a sensual femdom, controlled masturbation, slave training, magical enslavement, and BDSM. You must be a legal adult to use my services and understand it is an adult entertainment business.